Jun 21, 2020 • 3M
#26 How to Read Five Books Per Day
Hi! I'm Vasili, the guy who runs the show. I believe the world would be a better place if you learned something new every day. That's why I record daily episodes where I explain complex ideas in simple words. I hope you'll enjoy the show.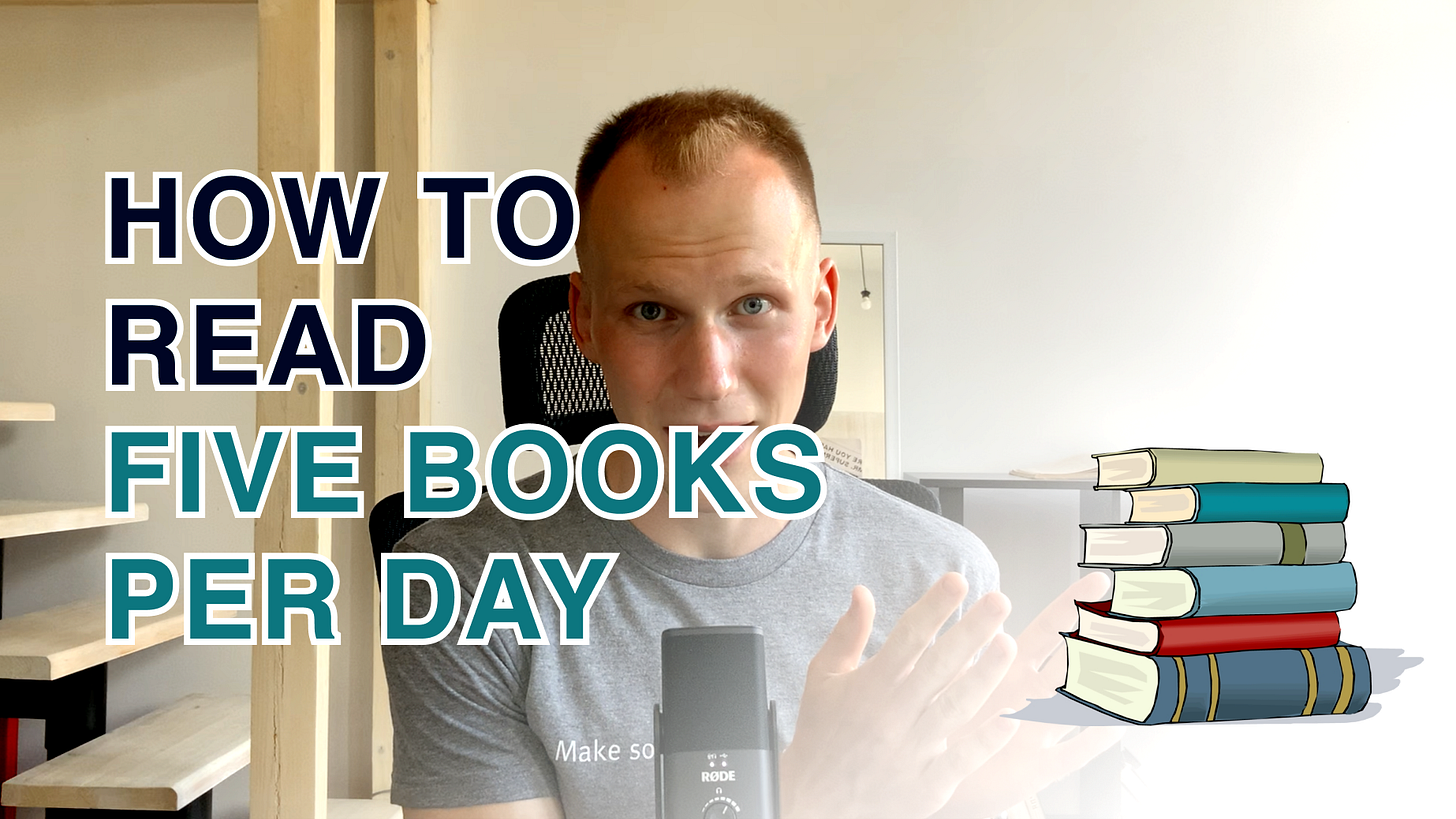 Hey friend,
In this episode, you will learn how to start reading 1.8k books a year by spending just 25 minutes a day.
If you prefer watching, you can find the YouTube video here. If reading is your thing, then enjoy the transcript below.
---
Welcome to The Daily Recall show. I'm your host, Vasili.
Today you will learn how and why to read five books a day.
When most people think about reading, they think of taking a book, diving in, struggling to figure out what the author is talking about, etc.
When I think about reading, I think of it backwards from the purpose of the process.
The purpose of reading is learning. This means that it doesn't matter how many books you read; the only thing that matters is how much you learn from them.
The quality of your learning depends on the quality of the material you learn from. Given your reading capacity of 10 books per year and five million books out there it's really dumb to read from cover to cover; you need more options to choose from.
My approach is to scroll a bunch of books every day and read for understanding only what sparks my curiosity. It takes a few minutes to understand if a book is interesting enough to keep reading it; and you can do that by downloading a free sample from Amazon - no need to buy a bunch of books.
And you can do that in a car, when waiting in line, etc. Remember - you're not learning yet. Curiosity works differently than understanding; it's like seeing a girl for the first time. You either like her or not; you don't think about that proactively - "oh is she pretty or not?"
Here's some math. It takes 2-5 minutes to scroll a sample of one book. 20 minutes a day. This gives you 1.8k books in a year to choose from instead of 10 that you'd otherwise read cover to cover.
Thanks for reading and see you tomorrow.
This transcript has been edited for clarity.